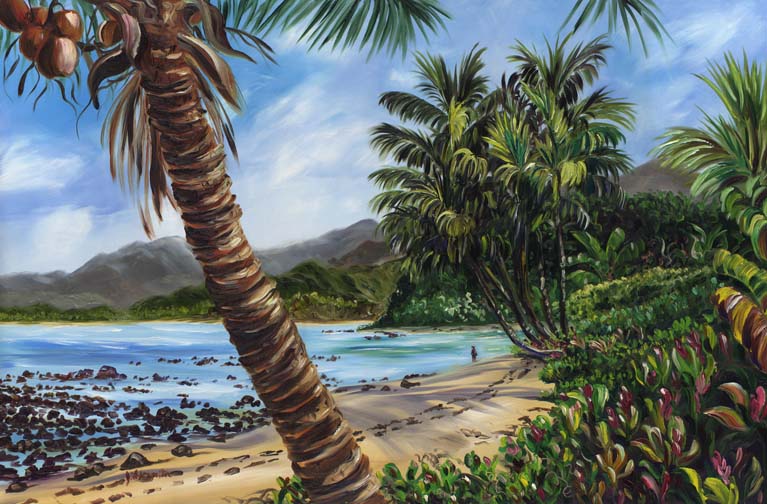 The tropics have long been a place that I hold dear in my hear and has been my main inspiration for more than 10 years; the air and its dense humid nature; the scent of the Hawaiian Island flowers and sea breezes; the hues and textures of the cocoa palm I love everything about the tropics. It was in Florida while attending a reception for my work at an international gallery that I discovered the wonderfully serene and world re-known Fairchild Tropical Botanical Gardens. I knew that my career as an artist would be forever changed by this enchanting eighty-three acre tropical wonderland and though I travel to different island each year, the visions that I absorbed at Fairchild still influence my works. Almost 10 years later, I am still traveling to tropical lands, sometimes revisiting places of comfort and each time I am able to see the this beautiful world in which I pain in fresh, new ways. It is my life's mission to continually visit these gorgeous climates throughout the world and gather together the wonderful feelings, sounds, smells and sights through my passion for painting.
My travels through the Hawaiian Islands inspire my dynamic island landscapes in oil and watercolor. My current series of island paintings is focused on the dynamic mountain ranges of the Hawaiian Islands. I love how they rise up like a dragon and fall into the sea, adding a very dynamic elements to my landscape compositions. Square painting compositions and large scale work are some of the current direction in which I take my paintings, when I'm not busy creating my chandeliers.
With my oil paintings, I work quickly while my paint is wet. I try to capture as much of the essence and color as possible and I will add layers of color in a more traditional mater if needed. I tend to do all of my oil paintings on gallery wrapped canvas in which the canvas goes around the edge of the stretcher bars and this allows me to paint all the way around the canvas. These works do not need to be framed though they could be if you desire a more formal presentation.
Because my oil paintings are large I work in my studio…sometimes outside during the warm California months. I have painted and sold hundreds of original oils. All of my large paintings are based on smaller works which I refer to as my Mini Master Paintings and I have maintained a blog for these since 2006.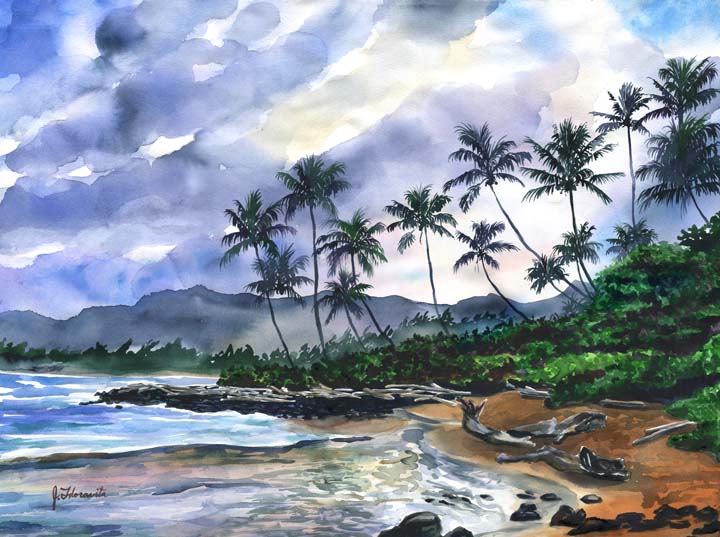 Though I have primarily painted in oil for the past 5 years watercolor was my first love and I have become very accomplished with this contemporary medium. All of my watercolors are created on Arches paper and I tend to prefer cold pressed, oversize rolls so that I can make large paintings. All of my paper needs to be stretched, which I do on a large board. I tend to prefer transparent watercolors these days and Windsor & Newton Artist's Series has always been my preference in paints. I have been painting so long in watercolor that it's like my first language. I go back and forth between oil and watercolor every now and then. Last year I began to create new pieces, which I frame beautifully.
As far as watercolor techniques go, I do what I feel needs to be done in order to express my idea. I will pour paint into large wet areas if that's what it takes. I use extensive masking fluid over a series of layers in order to paint my rich palm fronds. I employ dry brush and splattering. Watercolor was my primary medium for more years that I want to count. It was introduced to me at age eleven through a dear friend of my mother's who is an artist.
For those of you who admire watercolor but do not feel like it's ever worked well for you, consider this: use the best paper. Use Arches first. I know that there are other papers that will work but this is tried and true. Start with the cold pressed. I highly recommend the tablets where the paper is pre-stretched. You can use student quality paints if you want as I know that painting in watercolor can feel expensive at first. It's the paper that is key. Without professional paper your works will not look their best and I feel that this is the reason why artists tend to give up on this medium. Also it's important to allow yourself to go with the flow. Though my work is very realistic (I cannot change this for the life of me) I paint very, very loosely. Funny, huh?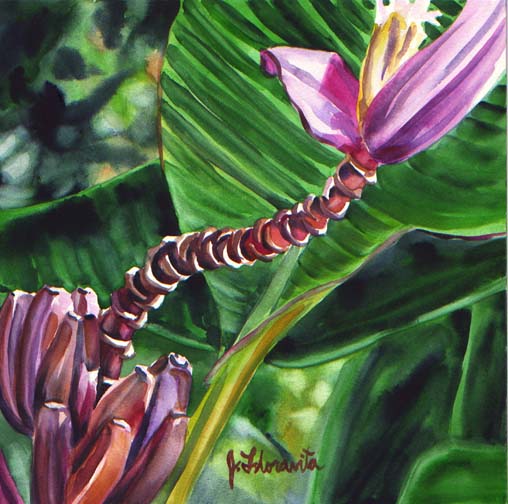 Oh, an occasionally I paint on watercolor board not made by Arches…made by Ampersand. It's now called aquaboard and can be loosely compared to a 'watercolor fesco' which is a term that some artists use, including myself, to describe this new painting foundation. It's a good fit for artists like myself who have dark and rich styles and who also have tremendous control of their paint. The banana painting here is an example of what I do on this aquaboard. This is a great painting board to travel with and technically if you varnish the board then you do not have to frame the painting behind glass.
My subjects are both island landscapes and tropical flowers in both oil and watercolor. My tropical flowers are very vibrant and dynamic in their compositions. I try to make my landscapes full of movement and atmosphere. My preference is to work large scale…or very small. The small works are my studies and I find them rewarding to paint.