Creating Painted Glass Chandeleirs
The lovely transparent nature of glass makes for a highly complex and expressive canvas in which I am able to infuse movement into every brush stroke. Exotic flowers and birds are a favorite subject— they bring vibrancy and movement to my illuminated painted glass creations. Glass is my canvas and the resulting illuminated paintings are like a glimpse into another world.
This is a rare and old art form. I have spent several years mastering and unlocking the secrets involved in creating these wonderful painted chandeliers. My painting techniques are special. Making the glass bowls is also a very special process. A lot of time goes into the entire process of creating a painted chandelier. The most common question people ask is, "How long does it take to make one of these"? It's first important to understand that these aren't fixtures that are simply bought at home depot type stores. The entire chandelier—the glass bowl, the iron fixture, the painting—is fabricated by hand. I am the artist. These chandeliers and lamps are a labor of love.
My elegant hand painted glass chandeliers first start with tin rolled glass that is cut and then slumped in my kiln. For those of you who are not glass artists, a kiln is basically an oven that heats up to temperatures well over 1500 degrees which allows the glass to bend into the shape that I want and then soak for a period of time at a specific temperature to re-stabilize. The re-stabilization of the glass is the annealing process. I then cold work my glass bowls, sconces, night lights and lamp shades which involves grinding edges and sand blasting. The cold working is done in a couple of phases and can be quite labor intensive. This is a simple explanation for my glass bowls and they require time to create.  This is also true for my lamp shades and for each and every glass night light. Now for the true art: the painting.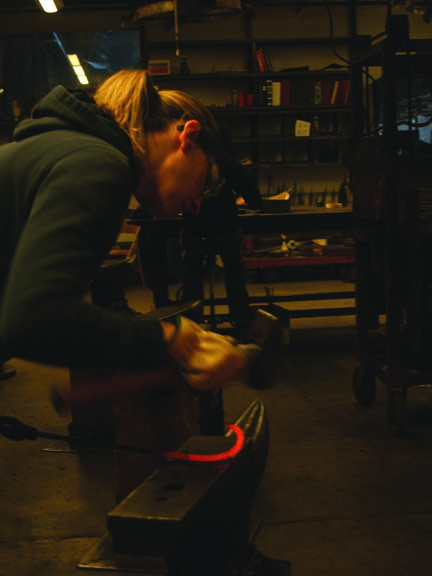 I paint with brushes on the inside of the glass in reverse (which is how this art form is known as reverse glass painting) with special paints that work with the surface of the glass. Though there is a lot of work that goes into each hand painted chandelier it is my special painting talent that makes each piece a high art form. I have been painting seriously for the last two decades. I went to college for fine art and at that point I was already very advanced in my technique even though I was only seventeen. My techniques and my style in painting have been developed over many, many years and I continue to grow. Every working artist grows and changes in time and that is part of the beauty and fun of being an artist.
My iron fixtures are all hand-forged and custom to the glass bowls that I create and are my designs—they are not mass produced fixtures that you see in big box stores and they look hand-crafted. My iron fixtures are simple and elegant and frame my hand painted glass chandeliers well. They are exquisite in their simplicity and I am very proud of them. They show off the artistry of my painting technique which is what makes this functional art form interesting.
How does one fabricate a chandelier fixture, you might ask?
First raw steel is cut to specific lengths. All end are tapered by hand. The metal is heated in the forge and tapering is what is done first. The scrolls are then created by combination of free-hand work done over the face of an anvil or over the horn and then completed in gigs that are specifically for my chandeliers. This helps to keep all of the arms and C scrolls as similar as possible. The final steps involve welding and grinding. My fixtures are now ready to be wired, painted and re-checked to make sure that they balance correctly. When I wire up my fixtures I use only the best UL Listed parts.
I think that though this process helps to demystify the art form a bit it should also help you to appreciate the amount of work that goes into each piece. I'd also like to re-emphasize that the painting is what makes my glass canvas come alive.
Commissioning a Painted Chandelier or Lamp
You've probably read the above description of what goes into the making of a painted glass chandelier or lamp. You've looked at my website and I either have sold the exact piece that you want or you want a piece in a different size, or you love my work yet you don't see exactly what you're looking for but have a fairly good idea of what you'd like.
I can help you! Over 60% of my chandelier and painting sales are commissions! Though commissions tend to be a bit more stressful for most artists, I'm proud to say that I do well with commissions and it's probably because of my background as a graphic designer and illustrator.
If you want one of my standard 24″ pieces, well then, you're in luck because I've always got glass bowls ready to paint in for that size. Turn around, depending on how busy I am could be a couple weeks to a few weeks.
If you'd like a different size, I may still have a glass bowl ready for you! If not, then we'll need to create the custom glass bowl and then the iron fixture to fit. My work is not intensively production oriented so each piece is made one-by-one. Turn around time will be longer because you are custom ordering a unique hand-crafted chandelier.
If you are considering a commissioned chandelier then let's talk over the phone. We will talk about color and flowers and elements that you like in my portfolio of chandeliers or lamps. That's a good place to start. I'll walk you through the steps. We'll decide what kind of iron you need, be it simple or ornate.
My painting style is unique to me and it is who I am as an artist…so it would be important that you like my style if you want a wildly different chandelier from what I normally create. I'm open to the challenge if I feel that I can do it in a genuine way.