Floravita Hand Painted Chandelier Info
Thank You for your interest in my reverse hand painted chandeliers. Each hand painted chandelier has a tremendously high level of artistry and creative energy. All of my chandeliers are painted and signed solely by me, Jenny Floravita. I have sold a few hundred hand painted chandeliers through my studio and through fine art galleries—I have a few hundred happy clients and my prices are very fair for a work of art of such a high caliber. Look through my hand painted chandelier collections for just a few minutes and you will see why I have so many clients who love my work. My customer service is very detailed and excellent and I'm always here to speak with you either over the phone or via email. You will notice there is an outstanding quality and originality in my work.
All hand painted glass chandeliers are installation ready and include a ceiling canopy, chain and a lovely Jenny Floravita designed, hand-forged chandelier fixture. A licensed electrician can install your chandelier. If you have questions that are technical, my husband Patrick is a licensed electrician here in California and can probably help you over the phone or email but in general, my chandeliers should be an easy install if you already have a place for them with modern wiring.
Weight of Floravita Hand Painted Glass Chandeliers: 24 inch hand painted glass chandeliers weigh 25-30 lbs and my chain and ceiling canopy that are included are rated to hold 60 lbs.
Large 33 inch and 36 inch hand painted glass chandeliers weigh just under 50lbs and your licensed electrician should know how to hang them securely. Extra long chain adds a little bit of weigh and your electrician and general contractor will know how to reinforce the weight.
Drop heights are defined as, from the top of the ceiling to the bottom of the glass bowl and can be lengthened with chain. I recommend measuring your ceiling with a tape measure and you can approve the the bottom of the glass bowl will not be too low for the fixture that you are choosing. You can call me for recommendations as I can help you to make the correct choice. Vaulted ceilings are no problem. Short ceilings may require a semi-flush mount version of Contemporary Swirl—and it's lovely!
Chandelier sizes are measured by glass diameter and Floravita's chandeliers come in sizes 20″, 28″, 33″ and 36″. The most requested chandelier size is 24 inch so I will begin here…
Chandelier Specs
24 inch Floravita Reverse Painted Glass Chandeliers

Three Floravita hand-forged fixture styles to choose from including a semi-flush mount for short ceilings.
Wired for 4 LED bulbs
Lovely lighting for over a dining or kitchen table or an entry way
A work of art for your ceiling!
Contemporary Swirl
Hand-forged fixture is a 2013 NICHE Awards Finalist
Forged swirl elements above ring so more of glass painting is seen
Flexible fixture style that I can modify to different heights
Heights are: 20 inches, 25 inches, 29 inches (as seen below)
Semi-flush mount version is 16.75 inches and recommended for short ceilings
See example of Contemporary Swirl on website here.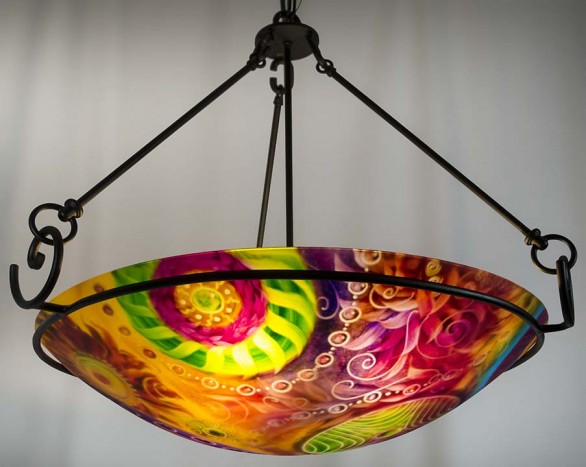 Ornate
Elegant hand-forged fixture
Lovely with more traditional and Tuscan style homes
Heights are: 29 inches with top plate installed into ceiling or 34 inches with chain and ceiling canopy
Recommended for ceiling that are 9 feet and higher for over a dining table
See example of Ornate on website here.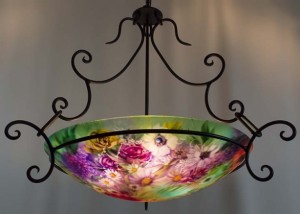 Standard
Elegant yet simple hand-forged fixture
Heights are: 25 inches
Can install over a table with a ceiling that is 8 feet and taller
See example of Standard on website here.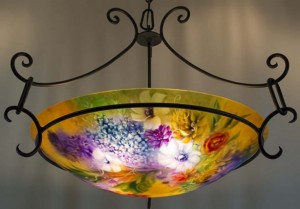 Need a smaller size reverse painted glass chandelier?
20 inch is my small reverse painted glass chandelier size

Contemporary Swirl fixture height: 21 inches, 26 inches and semi-flush mount is 13.75 inches
Recommended for hallways that are shorter and may require multiple pieces
Wired for 3 LED bulbs
Need a medium to large reverse painted glass chandelier?
28 inch is larger medium reverse painted glass chandelier with a deep bowl shape
Price upon request
Ornate Fixture Style Height is 34 inches
Contemporary Swirl Height is 28 inches if top plate is installed to ceiling or 32 inches with chain and canopy
33 inch is a large reverse painted glass chandelier
Price upon request
Ornate Fixture Style Heights: 35 inches with top plate installed to ceiling or 41 inches with chain and canopy
Minimum ceiling height recommended for over a table would be 9 feet
View a 33 inch commission here.
36 inch is a large size with the glass being deepest
Price upon request
Ornate Fixture Height 33 inch is top plate is installed to ceiling or 40 inches with chain and canopy
View a 36 inch commission here.
Care of Jenny Floravita's Reverse Painted Glass Chandeliers
Caring for one of my reverse painted chandeliers is relatively simple. The inside of the glass bowl can be wiped out gently with a soft micro-fiber cloth like the one you use on your computer screen and this will only need to be done occasionally. Please do not use a chemical cleaner—you wouldn't use one on a fine painting on your wall and this is a fine painting. My chandeliers are painted on the inside.
Moving your Floravita Chandelier to a new home?
If you are in doubt of how to transport your chandelier, please give me a quick call. I can best suggest how to wrap and transport based on your circumstance.You will definitely want to supervise the taking down process of your chandelier to ensure that parts are not lost. Please contact me, first, and I'll re-send to you the instruction sheets that you originally received with your chandelier and that will list the parts that you need to wrap together to keep track. I've had clients leave their fine painted chandelier to the care of movers and moving is hectic, things happen. I've had clients lose parts in the process of moving. Nobody will care for your work of art like you will. In fact, if you can transport your fine chandelier personally that is recommended.
If you think you might move to a new home at a future date—and everyone does take my chandeliers with them, they don't part with them—you should try to leave some of that extra long wiring that I send with your fixture wound up neatly up inside the box in the ceiling. You should tell your electrician to try to keep some of this wire in case your next installation location has a taller ceiling and that will stop them from cutting your wire short.
If you have some general questions about installation, I can connect you with my husband who is a licensed electrician contractor—yes, I know, very handy for me!
Save
Save
Save