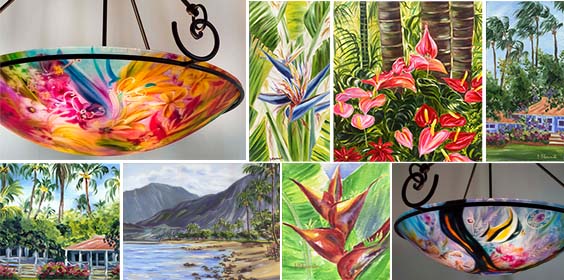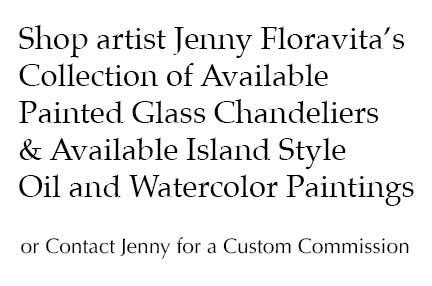 Reverse Hand Painted Glass Chandeliers
Fabulously painted Original reverse hand painted glass chandeliers and lamp shades by artist Jenny Floravita. Decorative art lighting. ALL Chandeliers and lamps shown here are available through my studio or through a fine art gallery. Please inquire for price and fixture options, email jennyfloravita@yahoo.com or call 925-625-7969.
And if you don't see what you are looking for, it could be possible to do a custom commission.  🙂
Exotic Flower Paintings
Original oil and watercolor paintings of lush tropical flowers, medium and larger sizes
FREE SHIPPING in US!
Original Hawaiian Island Oil and Watercolor Paintings Starting at 100
FREE SHIPPING in Continental US!
Birds of Our World Night Lights
Wonderfully Painted Fabulous Gifts For Special Friends and Family
Each Birds of Our World Night Lights are hand crafted, kiln formed glass that is pained in reverse by artist Jenny Floravita. FREE SHIPPING in US!
Ambiance Flower Night Lights
Affordable Works of Functional Art
Jenny Floravita Ambinace Night Lights are all hand cut and kiln formed in her studio in the greater San Francisco Bay Area. Choose from many different vibrantly flowers in lots of colors in both wide and slim shapes. Night Lights are 4×6 inches and 6×6 inches. FREE SHIPPING in US!