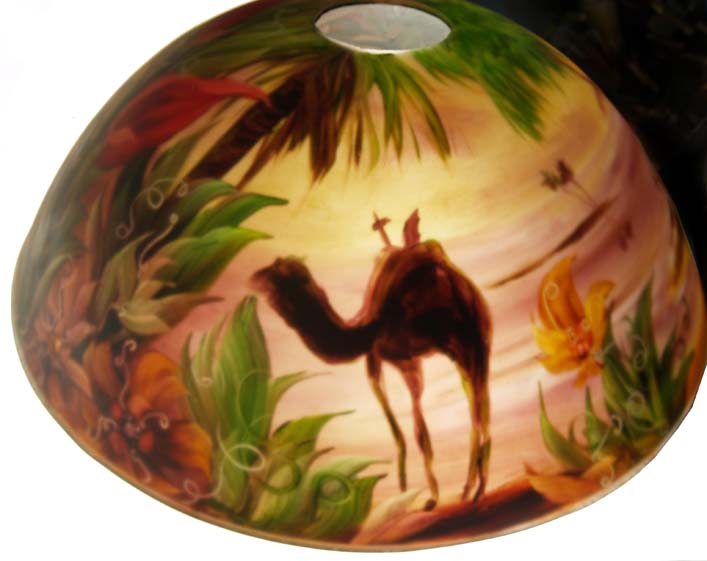 This is the second custom reverse painted lamp shade that I completed via commission for a couple in Florida who had broken one of a pair of treasured painted lamp shades. The shade that broke was a mass-produced type of shade, not done by any particular artist and probably done in a factory overseas but it's Middle Eastern imagery had sentiment to my clients. It was really important to me to capture the concepts that represent desert life for my fellow Mediterranean friends.
As this was one of two shades that would be illuminated in the same room, we had determined that both would be in the same color palate. I had just completed a reverse painted shade with grapes, their cat's face and two red birds and now it was time to use the same colors for this desert shade. We incorporated a camel and an oasis scene and palms and those flowed onto a side that had close-up pictures of my client's flowers from their yard. The overall effect was both exotic and modern—there was nothing stuffy about the painting in this glass lamp shade.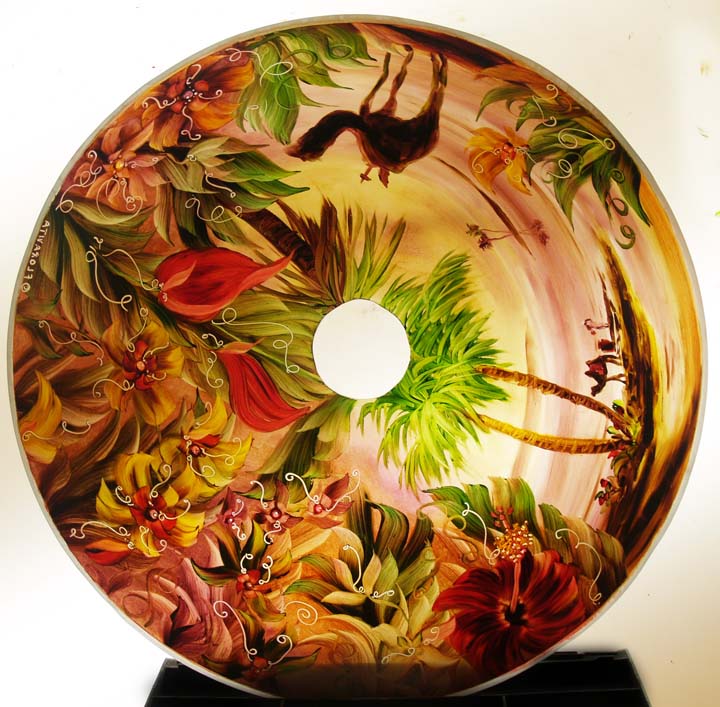 The picture above shows an inside view of the scene. I think the hardest part about these two pieces was waiting for the paint to dry! Oh, and I should mention that a lot of time and thought did go into this reverse painted lamp shade and I think that it shows!
These two shades are good examples of commissions that arose out of tragic circumstances, being the breaking of a beloved lamp. At one point my clients exclaimed that they were almost happy that the one lamp was broken because they had a chance to design and create these two special reverse painted lamp shades. That made my day and I was very happy that my clients were please with their lamps. One more thing, these were installed onto two matching bases that the clients owned and I provided the decorative and functional hardware needed to fit and secure the shade. So if you have a lamp base that you'd like to use, send me pictures and I'll let you know if it's possible and what I can do to help make it work.