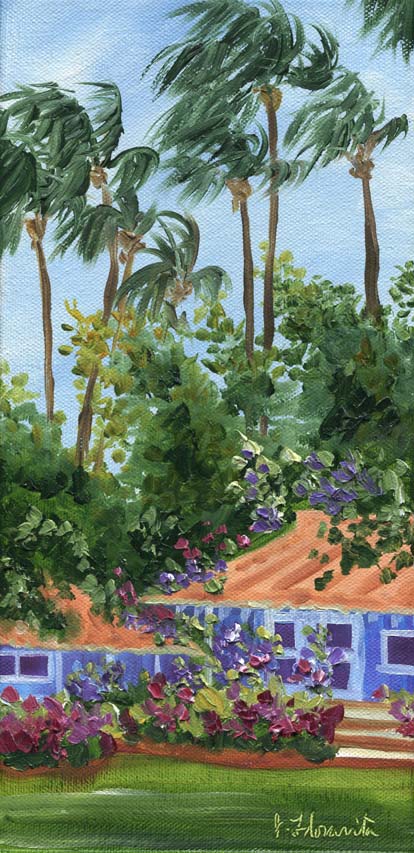 Late last month I was blessed to visit Hawaii proper also known as Big Island. Hawaii is a very dynamic, living island. Though our entry and exit to and from the island happened late at night, if you fly in to land during the day you will be able to see how the lava effects the landscape.
This island is still producing shoreline. The lava has a beauty in itself that is hard to describe if you have never experienced standing on and in an immense dried lava bed in person as we did on the grounds of the great 1990 eruption. I'll have to create a few paintings this year that incorporate the beauty of lava rock.
My husband and I also realized that we really love the East side of the island. It's the wet side of the island. As an artist who is inspired by the islands, it was great to finally be back on Big Island—it really helped me to reconnect with my chosen subject.
Though the painting featured here does not have lava it does have one of my other favorite elements to paint—the Hawaiian sugar plantation cottage. This piece titled, Morning Glory House is a small canvas, 6″x12″. There is a lot of fun texture on this painting. You can see a couple more details of this fine vignette oil painting under my Mini Paintings category: http://floravitalights.com/portfolio/blue-waimea-plantation-cottage-with-purple-morning-glory-and-pink-flowers/