This gorgeous scene is an 10×8 inch Waimanalo Bay oil painting. This is the first of three 8×10 painting commissions. My clients are from Australia and they were married on Oahu's gorgeous Waimanalo Beach.
Each painting will be given to a parent of the wedding couple. This first painting really shows the expansive view of Waimanalo Bay to the right. I love how bright and sunny this scene is and I especially love the mountain range.
Hawaiian mountains are endlessly fascinating to me. They are very rich sources of inspiration. Oahu has some stunning mountain ranges. The week before my client was to be married I was also on Oahu, enjoying Waikiki downtime with my family. I missed traveling around the island this time. My son is only one years old and we all determined he would enjoy the beach more than a long car ride. Oahu has such rich scenes for an artist like myself to paint!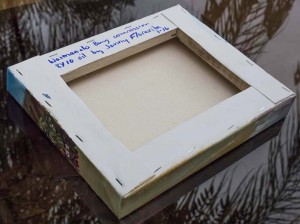 I love to watch the Pacific Ocean roll endless waves towards the shore. It doesn't matter which island I'm on—they all give me great inspiration to work hard as an artist. There are too many paintings to do in a lifetime! My source of inspiration in the Hawaiian islands is endless.
Back to this particular painting. This Waimanalo beach oil painting is on gallery wrapped canvas. This is a small piece and is 10×8 inches.