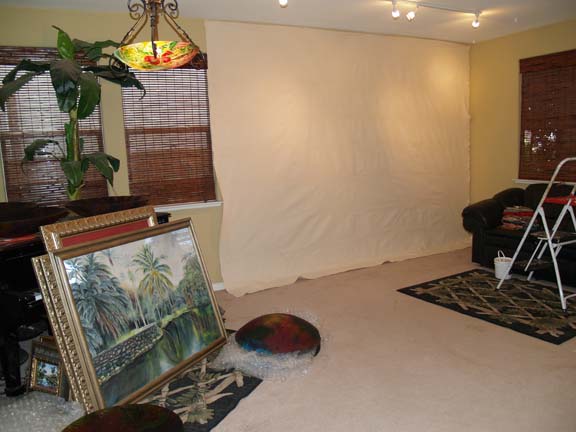 Warning: this is an anti-mini painting…contrary to the name of my painting blog which has chronicled my Mini Master island paintings since 2006, both here and on my former Blogger blog.
This is the next step. The canvas is up and is ready to be primed. Pinning the canvas to the wall was a two-person job and my husband was of great help! Our goal was to get the canvas as tight as possible. Primer, which I will explain in my next post will help to further tighten the canvas, creating a smooth surface in which to paint.
I awoke this morning, very aware of how much work and commitment I have in this project. This is a painting for an interior design showcase that is also a fundraiser and of course will take a tremendous amount of time away from my personal business of creating custom reverse painted glass chandeliers and my 'regular' tropical island and flower oil and watercolor paintings. A lot of my work right now is commission based. Technically I'm in the middle of 5 different commissions for my painted chandeliers. I will have to structure and use my time well in the next month!
The round objects with bubble wrap on my floor are actually chandelier bowls that are painted on the inside…and you can see that paintings leaning on my grand piano aren't small either though they are by no means as large as this mural will be.
My approach on this painting will be to work intensively every day until finished.