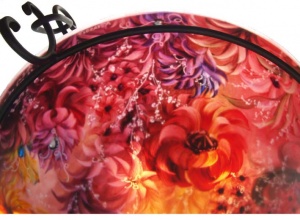 I don't mind answering questions. Here are a few that I hear a lot. Feel free to call me in my studio at 925-625-7969 with any questions that you have. You can also email me at jennyfloravita@yahoo.com
How do I order a reverse painted glass chandelier? You can call me at my studio number at 925-625-7969 or email me direct at either jennyfloravita@yahoo.com or jenny@floravita.com as both emails funnel into the same place…but a phone call is always more reliable. It's a simple process. If I happen to have available the chandelier that you like then it will be ready to ship within a few days. You can pay via check, credit card or PayPal. When you call you will speak directly to me.
Do you create chandeliers on commission? Yes, I create a lot of custom chandeliers in almost every color scheme. Commissions do take a bit more time as I often need to create the glass bowl and then the iron to fit. That happens before I even begin to paint but the overall process is easy. My page about Commissions explains the process a bit more in depth. If you look through my collection you will get a good idea for my style. Colors are up to you!
How long does it take to paint a commission be it a chandelier or an oil or watercolor painting? It depends on a few factors. Usually I already have projects in queue. A very conservative answer is 6-8 weeks. If you have an urgency for a chandelier (almost always these are cases where there is an upcoming home party) then let me know. In my experience, shipping takes 3 days to one week…though technically 7-10 business days is an advisable time-frame. With commissions I frequently check-in with clients to let you know where I am at in the process even if I'm just getting ready to start the painting. Keep in mind that this is a high-end art form and not a mass produced item so time is required for good work. One very good thing about working with me is that I'm always available to talk via phone or email even when I'm traveling.
Do you ship? Yes, I've shipped to places all over the US. All of my pieces are professionally packed and insured. I guarantee my work.
Can I see your work in a gallery close to me? My hand painted glass chandeliers are in a few galleries and are also here on my website. You are quite welcome to see my chandeliers in my studio. I live about an hour and fifteen minutes from San Francisco. My studio is located in between San Francisco and Sacramento. I would also be happy to bring my chandeliers to you in person to see if you are within driving range. My work in general has sold in galleries across the country over the past decade. I would be happy to put you in touch with a gallery if you want.
Do you accept payment plans? Yes, I do. I've worked in this style with a number of collectors. Often this works well for people who are in the building process.
Do you create chandeliers in larger sizes? Absolutely. I love to work large and to be honest, most spaces can handle a large chandelier. I tend to create large works as commissions. Good large sizes examples are 30″, 32″, 36″ and up. If you want to go larger than my standard 24″ size but don't want to go into the thirties then I'd recommend a 28″ piece. This is actually a lovely, lovely size.
How bright are the chandeliers? The chandeliers are painted and are more ambient in nature but they do give off some light. My fixtures will take 4 energy efficient bulbs. I recommend 60 watt bulbs because they feel like the right luminosity for a standard 24″ chandelier. I've had collectors install chandeliers in every room that a house has but the two most common areas are foyers and dining rooms. It's good to note that any room will ideally need multiple types of light sources to create ambiance to suit different situations.
If you recommend energy efficient bulbs then can I put my chandelier on a dimmer? Yes. You can purchase energy efficient bulbs that will dim. They cost just a little more but burn for 10,000 hours. I think they're worth it if you want to put your chandelier on a dimmer. I prefer energy efficiency bulbs in general because they reduce heat by 50% and lower your energy bill and the ones that I use don't effect colors in your hand painted chandelier and the actual light is beautiful.
Can we have our irons in a different color? Yes, if you want. I show all of my work in black irons because I think that it looks really nice this way but I've certainly finished irons in other colors.
Do you offer other irons styles? Yes, call and tell me what you are looking for. I've done contemporary, simple pieces and larger, more formal pieces. All of my iron fixtures are hand forged and they are quite exquisite.
I have a short ceiling, do you have an iron for this? Yes, short ceilings are not a problem. We can talk about a couple different solutions.
Are the chandeliers easy to install? Yes, they are easy. You just want to make sure that you have a box in the top that will support the weight of the piece. Many newer homes do. If you had a ceiling fan or heavy chandelier in the intended place then you're probably fine. My standard size chandelier weighs 25lbs and of course larger pieces weigh more. I will provide you with a ceiling canopy and chain that is rated to support the weight of the piece that you purchase. If you are installing a chandelier where you do not have electrical then your licensed electrician can run wire for you.