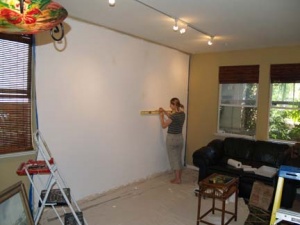 How did this concept materialize? To make a long story short, I worked with interior designers who liked my tropical flower paintings. They specified the size (roughly 9'x12′) for this project. I then presented three different concepts that were mocked-up in Photoshop and one was chosen. I then refined the chosen concept in my studio by adding more flowers. The subject for this large scale oil painting that will unfold is a very complex tropical jungle flower scene that is not unlike some of my other paintings in the genera.
All of the flowers are from my personal source photographs that have been taken over the years. I travel for my subjects and am known for my tropical flower and island landscape paintings. A big part of enjoyment from my travels is capturing new ideas that serve as my inspiration for future paintings.
The way that many muralists transfer their subjects onto the wall is by projecting them and then tracing the outlines. Some muralists could spend a couple days just tracing shapes from their projections but this won't be the case for me. My patience isn't that strong for projection and my preference and strength in painting has always been my ability to paint freestyle without many lines. I enjoy creating gesture through my brush strokes and I need this freedom especially considering that I'll be working from photographs. The true bummer for me is that this 'mural' is too big to project in my downstairs studio. Even though my room is very large I cannot move my projector away far enough from the wall to even come close for this image to be projected properly.
That brings me to the other way that a small image can be transferred to a large space: the old fashioned grid system. This is not my preference because it is time consuming but my good fortune is that I developed very strong drawing skills. What I will do is print out my concept, divide the space evenly to give me a grid of 16 squares. I'll then divide my wall canvas to 16 squares. Now I will copy rough lines that are in each square. I can see where angles and lines intersect according to the space. The image above shows me utilizing a level to keep my grid straight.
Because I am anxious to begin painting, I will choose to draw as I go. This is a good example of quickly thinking outside the box, literally, to solve a very big problem. Though it's a bummer that I cannot use the projector for this project, I'll turn it into a positive by allowing myself to better adjust my flowers shapes and sizes to the scale of this painting.
My overall goals for this piece is to create a large oil painting on canvas in my developed style…and to try to enjoy the process. It will have the same true quality as all of my works. It will have a lot of vibrant colors and flowers that are found in the tropics. It will have an area that opens up to more sunlight where the eye can 'rest' and ideally all of the flowers will be above the line of a table setting. This last part is important in terms of function for this painting and you will see why at the end of this project.
Young artists: this is a really good reason why you should learn to draw well. I remember in college certain groups of students who did more conceptual art than I who waited to take their single advanced drawing class until senior year (and boy were they poor at drawing). On the other hand, I had taken a full year of advanced drawing that started in the spring quarter of my freshman year and I still use those learned skills every time my brush hits the canvas.