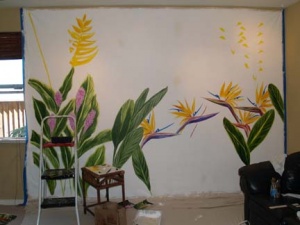 It's now time to add tropical flowers to the upper tier of the painting. I have begun to block in yellow for two different types of heliconia flowers, seen in the upper right and the upper left. The general colors of the flowers that I will paint today will be yellow, red and pink.
I choose to begin with yellow because it's a light color and I want to make sure that red doesn't bleed into the yellow areas for my pendant heliconias that will drop down on the right. I need to keep the yellow pure in these areas. Red is a very strong pigment and adds powerful color with the tiniest of flecks on the brush. I always start these specific flowers with yellow first. I absolutely LOVE pendant heliconias. To me, they are the most exotic flower…wish I could grow them here in my semi-tropical garden in California.
This entire composition comes from flowers that I have photographed either here in my garden of through my travels.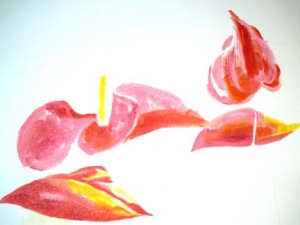 After softly blending the yellow heliconia on the left, I decid to block in colors for the pink anthuriums in the central part of the painting. I've taken alizirium crimson, soft mixing white and cadium yellow to create the color variation. You can see from the picture on the right how roughly the colors are blocked. This is my starting base. I'm capturing the hues and tones of the flower in gesture. The next step will be to softly blend the flowers until they look the way that I want them to look.
I'll then be able to layer a bit of contrast in the form of pure alizirum crimson and add a few highlights with my white.
In the final image, below, you can see the progress for the day. The pink anthuriums are blended and have some depth and add a nice color variation to the scene. They will need to dry before I can layer more color and highlights. I have also painted the red heliconia in the upper left and added the red to my pendant heliconas in the upper right.
In the next set of days, I'll begin the process of adding more background to this painting. Keep in mind that the flowers are all still in progress and do not yet possess all of their dimension. Painting is illusion and is created thought multiple steps that include backgrounds and layering. This is a rather complex painting. A lot of time has been spent up to this point and a lot more time will go into this piece before it is completed.