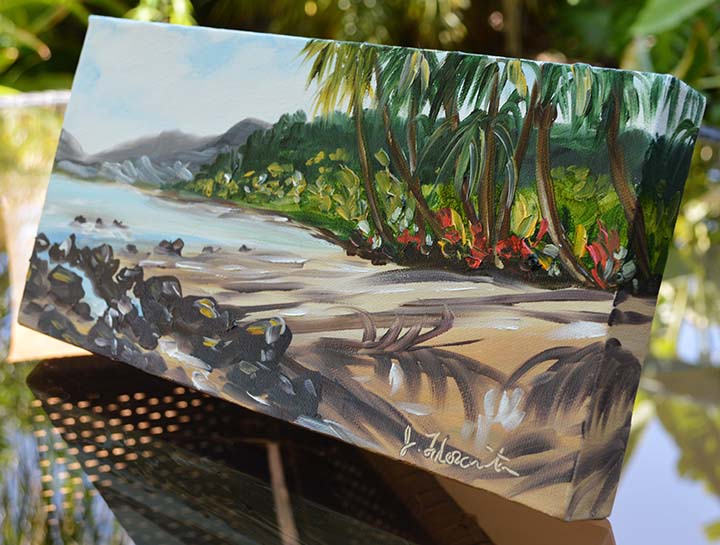 Just You and the Beach is another sold Mini Master Island Painting. This is one of four paintings that is shipping to a collector back East. This is a Kauai'i North Shore beach scene that I've painted large scale several times. I love this beach. It's semi-private because you have to know where to turn off the highway. There isn't marked parking or any signs. You then go down a little cliff to the beach. Every time I visit this little private beach has been empty.
And it's not very large. A couple stands of tall coconut palms provide a lot of nice shade. I love the detail of the bark of coconut palms and I paint them often, upclose and detailed in my larger works.
This small original oil painting is on a 12×6 inch gallery wrapped canvas and is painted around the edges. I absolutely love painting in both oil and watercolor. I've been torn between the two mediums for years but these days I have less time to do so in a given year because I am so busy creating my reverse painted glass chandeliers which require complete fabrication before the painting even begins.
But I do plan to try to offer more Mini Master Island Painting this coming year. Just painting small scale reminds me of how much I miss doing so. I've sold a couple hundred small original oil paintings, many through the art festivals that I used to exhibit here in California. These small gems have always been very popular with my collectors and I've kept them very affordable—I definitely charge less for these paintings over my chandeliers simply because they are so joyful to paint. When I don't have time to paint them, I am forced to put them on the back burner to handle my demanding painted chandelier commission queue and gallery demands which can last for many months without a break…so if you like my small oil paintings, it's better to collect when they are posted and available.
These days most of my works—both painted chandeliers and oil and watercolor wall paintings—are sold through my website to collectors in other states and not through festivals.