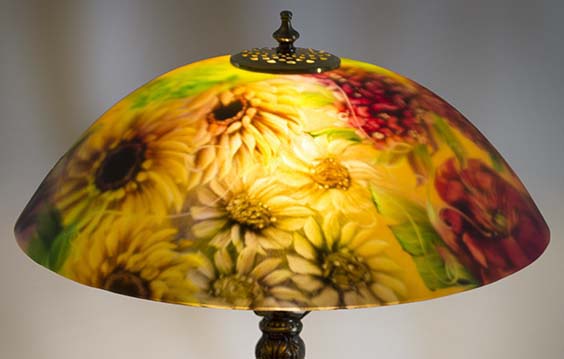 This exquisite lamp shade was commissioned through one of my galleries this past fall. The clients had specific colors and flowers that they were matching to a reverse painted chandelier that I had created the previous year and that they had purchased through the same gallery.
The shade was 17″ in diameter and was paired with a base that was 20.5″ tall. It was a great size for the shade.
I create all of my own glass shades here in my studio and they are specific sizes and shapes. Glass forming is an art in itself. Those antique, specialty glass shapes that are on the antique painted lamps were likely created by various glass companies in Europe in the late 1800s and early 1900s.
The process of creating a commissioned reverse painted lamp shade is easy. We would discuss first if you like the style and subjects that you see on my website. This would indicate that I'd be a good fit as an artist for your special lamp creation. If you can point to similar work in either my hand painted lamps or hand painted chandeliers then that helps to create a starting point for you lamp shade. We then discuss color and flowers, if your piece is a floral. If you are considering one of my unique geometric abstract designs in a lamp. then we'd discuss color and abstract elements. If you have pictures of your room then that is also very helpful for me to see. All of this info then is incorporated into a proposal for you and I to reference.
My glass bowls do not necessarily fit all of the lamp bases out there that are original to this art form. If you have a lamp base that you love, feel free to send me a pic of it without it's shade and I can let you know if my glass shades would work with your lamp base. The lamp bases that I normally pair with my work are all very study and elegant. A base needs to be heavy enough to support my thicker glass shades so that they will not easily tip over. My bases are strong and are very stable.
To get back to this specific commission, more images can be seen here. A lamp is a beautiful way to add another piece of this fine art form to your room.