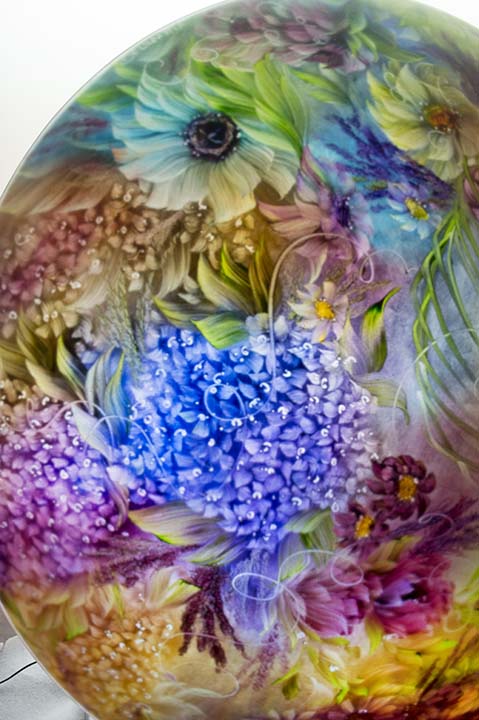 Just want to say Thank You to all of my collectors for helping me to have another fantastic year in 2013! I feel very blessed to be able to do what I love for a living, which is paint beautiful images that come from my soul. You have all made it possible for me to do so…and I want to thank you from the bottom of my heart.
I want to share the above image, it's from a new 33″ reverse painted chandelier that will be available soon. Think I'm going to title it Romantic Garden. It has a lot of dark exotic colors, very mystical and lush. This past fall I created a ton of floral chandeliers that I didn't get a chance to post onto my website for all of you to see…so I'll be trying to put a few more pieces up before the end of the month.
My work is inspired by a lot of different elements and it tends to go in waves. I'll paint pieces with certain color combos or waves of floral chandeliers or sets of abstracts or desert flower pieces…keeps my galleries guessing and my work fresh for my collectors!
Right now, I'm probably inspired by darker more romantic colors because we are in winter. Though California has a very mild winter, it is very cold for my blood as I am in my element in coastal and tropical weather. To beat the winter blues (please don't laugh at me) I need to keep painting and creating through these cold months. It keeps me sane. You will see a new flury of work coming out of my studio through March, for sure!
Seems that I'm able to also post more in these months. I'm always very busy, my work is in great demand and a lot of people expect a lot out of me at this point…but in the winter months, I do have more peace for some reason. By the late summer, seems like I'm not able to post as many works—I am usually swamped beyond belief as a LOT goes into creating my reverse painted chandeliers as you all know. Thank You to all of you who collect my work—please stay tuned for another exciting year! And a most prosperous year to all of you!!!