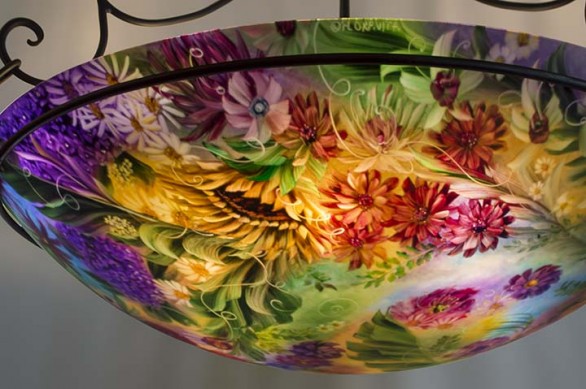 This jumbo 40-something inch hand painted chandelier is truly breath taking in person! It was painted as a commission for collectors in New Orleans who already own one of my custom 36 inch chandeliers. They had admired a particular chandelier titled Flowers of the Coast that was a 24 inch hand painted chandelier that sold through one of my galleries. Many of the commissions that I accept are based off chandeliers that my collectors see on my website. It is very challenging to go from an original 24 inch to a 40-something inch hand painted glass chandelier because of the sheer space in glass surface. Large chandeliers become entirely different originals that have to take on a life of their own. It's just the way it is—plus as an artist, my work is always better…and I would say this is true of most artists who accept commissions…if I have a certain level of freedom with the painting process.
I observed and painted all of the same key flowers and colors from Flowers of the Coast and from there, I improvised and added many m0re flowers while trying to stay within the same color palate and feeling.
I'll share a bit more of the painting process for this piece. Early on, my infant son was very fussy even though he was being tended to by one of his grandmothers. He's very needy for his mother still. I had many long hours of painting on the first day and I noticed that I was painting lots of fussy little flowers—which are GOOD in many of my chandeliers…just that by the end of the day I knew that I only wanted one small section of small flowers in this piece. The detail is wonderful in these flowers but in order for my work to really move and flow I needed to be able to see beyond small sections of glass. That is a hard thing to do when your baby is crying! He was just very fussy in that particular frame of time. Luckily we moved beyond that and I was able to create what I had envisioned for my clients—an original hand painted glass chandelier that had flowers bursting with movement and joy!
Though I want to celebrate the size of this particular piece, I don't encourage it for many collectors. The fright shipping alone is very expensive and the time in planning, fabricating and painting is also lengthy. The actual logistics requires two custom boxes. Hand painted glass chandeliers of this size are very expensive to pack and ship and fully insure—and my work is always professionally packed and fully insured so there is never any risk to my clients or to myself as a lot of time and love goes into my work! I don't sell myself short by not insuring my work properly. We have a very good track record in terms of chandeliers arriving successfully at my client's doorsteps—we (my team that packs my chandeliers and I) are pros at shipping! Maybe only 3-5% a year don't make it and there are years where every single piece does! That said, anything can happen in shipping, especially cross country. That is why we spare no expense in packing. My hand painted chandeliers are packed to the hilt. In the rare times that we have incidents in shipping (as I ship a LOT) I fast track that piece and move it to the top of my commission queue so my collectors don't have to wait too long.
These days, with my infant son I do require a bit more time in creating. He is very spoiled with attention from me! We are learning to navigate the waters of my very busy and successful career together. But back to this gorgeous hand painted glass chandelier—can't wait for my collectors in New Orleans to receive! And just a note again about size, though I'm celebrating the size of this particular chandelier, my two standard jumbo sizes: 33 inch and 36 inch glass diameter hand painted chandeliers are very good 'large' sized chandeliers and my prices are very good considering the amount of time and costs that go into them. I'm pretty sure that all of my collectors that have ordered either the 33 inch or the 36 inch hand painted chandeliers have been very happy with those sizes.