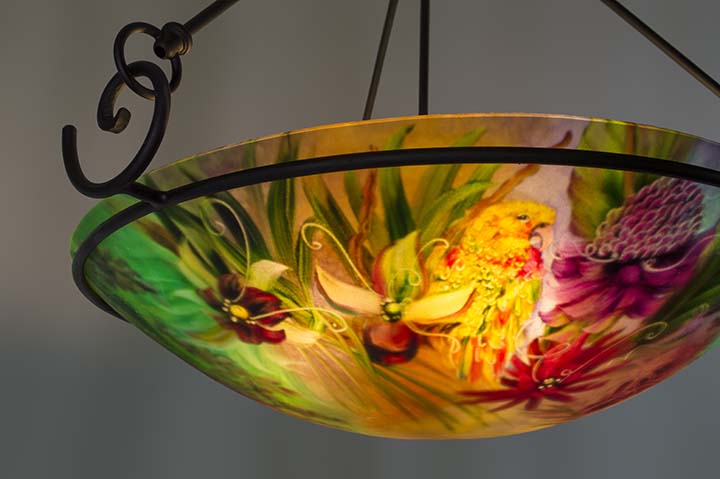 The past few months I've been working hard to complete several hand painted chandelier commissions for private clients. Earlier in the year I was working hard to make sure that my galleries had the painted chandeliers that they need. Some of my clients have expressed that they would choose available chandeliers, if only I had any in my studio. Part being a professional artist is having enough work available. In this phase of my career, my hand painted glass chandeliers are very much in demand and have been so for a few years. But I am honored and humbled with every commission that collectors trust me with.
Usually by late July, I'm able to begin to paint a series of chandeliers that are painted freely, to give to galleries or keep here in my studio for the fall season as people are busy traveling and on vacations. This year I've been very busy through the summer but as mid-July approached, I did manage to set aside some space to paint a couple chandeliers on my own—without any particular client in mind. Part of refreshing my creativity means creating a few painted chandeliers freely—it's incredibly important.
Tropical flowers and exotic birds are a subject near and dear to my heart. It is my 'natural' style as an artist—the subject I am most drawn to. My career as an oil and watercolor painting took off after college with tropical subjects, mainly flowers and island scenes. They greatly inspire my work and my life. In the 2000s I sold a couple hundred tropical themed paintings through art festivals in California and through my website.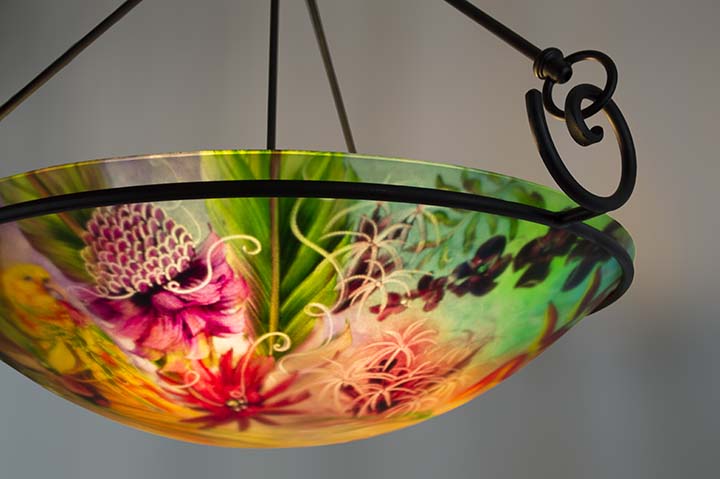 When I began to create hand painted chandeliers, tropical flowers and exotic birds were my first subjects. What I absolutely love about tropical flowers are their colors and their boldness and size. I love pink and red gingers and their broad leaves. Torch gingers are so dramatic and waxy—and they last a long time in an arrangement. Orchids come in so many varieties that colors and shapes are endless though I must admit I'm very fond of using reds and violets in my orchids. The biggest wonders for me are the large pendant family  heliconias with the broad waxy leaves that tower above a house.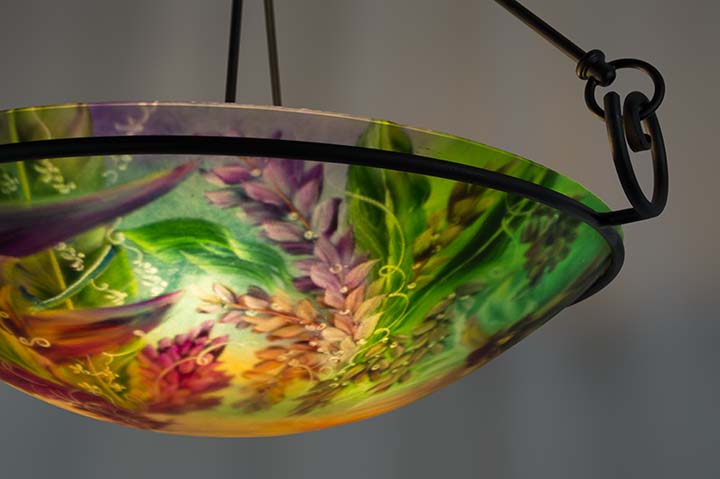 This particular chandelier has a sweet yellow parrot enjoying the rainforest, seen in the first image. He just hangs out among the flowers. His features have tremendous detail and expression.
The teal color adds a surprising color element. Shell gingers drape elegantly, birds of paradise are painted in dramatic colors. The overall color palate is very sophisticated in this hand painted chandelier. The soft violets and pinks add a moody element, like a quick rain shower. Most of my island travel is to Hawaii and we tend to prefer the jungle sides because they are so lush with flowers and gardens. We are big exotic garden fans so we do tour a lot of gardens…and we try to maintain our own when we are on the Big Island—always so much work to do!
This fall I'm looking forward to traveling to Kauai again with my mother and my husband's mother. We usually stay on the Coconut Coast, which is the East side of the island. It's been a couple years since I've be able to go back to Kauai because we've had so much to do on Big Island…but as I'm expecting our little boy in January, this is going to be a trip were we relax and shop and sit on the beach…and tour the island of course! I'm looking forward to gathering more inspiration from the isle that's inspired so many of my island scenes…and hopefully many more hand painted chandeliers to come!