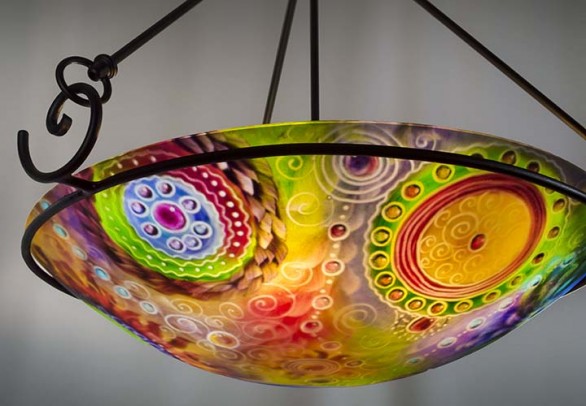 After taking a bit over a month off from painting and creating to recover from the birth of my beautiful baby boy, I'm fully back in motion. He's very lucky that I work from a studio that I own and that he can be with me all the time. I've been wearing him in a front carrying pack.
One of my newest geometric abstract painted chandeliers is titled Medallions of the Earth and features jeweled medallions and sun symbols—just a few of the complexly interwoven elements that form the composition for this amazing beautiful new work of art. This painted chandelier was completed before the birth of my little boy and I'm just now releasing it. Within a month I'll send it to one of my galleries and it will then fly out the door…as they all do, that is if I don't sell this piece through my studio first.
In this chandelier, I'm mixing my fiery desert colors with earthy tones. I'm always experimenting with my color palate, growing and changing. This is what a good artist does—simply because we can change and grow. From one year to the next, I'll always have completely fresh designs and ideas. That helps to keep my work interesting and exciting, especially since I sell a lot of chandeliers each year and I create and paint all of them! I need to keep my life's work exciting and full of light. I challenge myself on a daily basis to create the very best art possible.
The fixture design that this piece is shown in is my Contemporary Swirl forged fixture and it's become my favorite fixture design for my geometric abstracts.