This will be my third year exhibiting at the La Jolla Art Festival and I'm excited to make the nine hour drive down to San Diego. I love this show because it's fun to visit Southern California. I feel right at home in the sun and the warmth. I love the palm trees that are so plentiful. La Jolla Art Festival is also a very appropriate place for both my reverse painted chandeliers and my tropical oil and watercolor paintings.
This is one of the few shows where I feel like I'm really developing a new following for my island paintings.
The above painting is from my Mini Master series and is a 6″x6″ oil titled Mid Morning Beach. It's a very textured painting and is very lovely in person. I'd be surprised if I still have this piece when I return from La Jolla next week.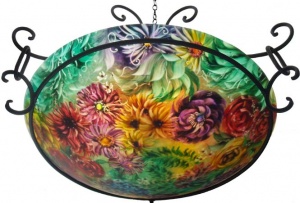 The months are just flying by! I'm just not sure where spring went. I was so busy that in early April I could see through the end of May. Summer is just so beautiful that it's tempting to sit in the back yard under the palms (in my new chaise) and just listen to the pond. But if I did that too much then I'd not have any new painted chandeliers to present to you!
So good thing I'm keeping busy instead! This week I'll be releasing three new lovely hand painted glass chandeliers. I'm so excited to show them to you. As always each piece will be very different from the last. One is a tropical piece with very dramatic colors and a very dynamic composition. The other two pieces have my lovely wildflowers. Each of these pieces are very colorful and each is different in it's own way from all of my other painted chandeliers. Keep an eye open for them as I prepare them for my website!
Shown here is a lovely painted chandeliers titled Santa Cruz Cottage Garden and it is already sold.