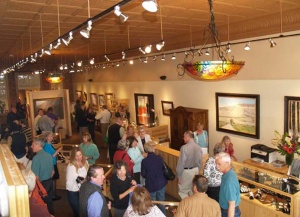 I'd like to wish all of the artists in the annual Open Studio tour in my area best wishes for this weekend! We've all worked tremendously hard to make this event both fun and successful. A special thanks to my dear friend and collector Jack Gaughan for all of his hard work. I look forward to this event every year. It's so much fun to catch-up with dear artist friends and collectors.
The picture in this post isn't of my open studio…it's of the May 2011 Sorrel Sky Gallery reception…more to come on that later!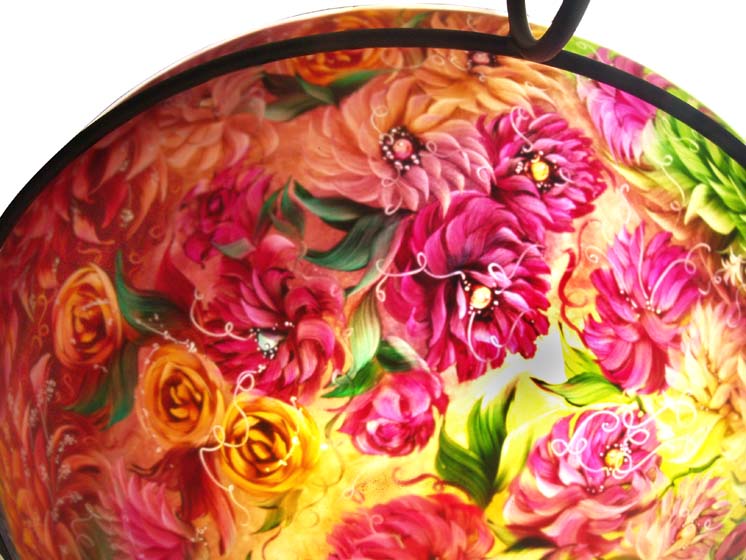 This morning I decided to wear a piece of jewelery made by a very good friend, Barbie Koncher, who is also a well-known jewelery designer. It is from her labyrinth series and it represents my journey in which I must take different paths in order to get to my destination. In a labyrinth there are multiple ways to arrive at a destination. This is a very good metaphor for an artist.
I've known since I was 15 that I wanted to live my life in a meaningful way, making art. Actually, before that I assumed I would be a dancer so really, I've known my entire life that I would work in the arts. Through the years I've stayed true to my vision, taking different paths always with the same goal in mind: to create beautiful works of art that bring happiness, meaning and inspiration to the lives of my collectors.
My journey as an artist continues to be an interesting one. If someone had told me ten years ago that I'd be creating hand painted chandeliers, that I'd learn to forge metal or that I'd learn to make large glass objects that most glass artists cannot make then I would have dismissed this as unbelievable. Now if you had told me ten years ago that I'd be an established professional painter who has exhibited in galleries across the country and has sold hundreds of paintings, I would have believed you because that was what I was working towards from the start.
Artists define success in many ways. My journey as an artist has also helped me to fulfill another lifelong dream of traveling to interesting destinations. I'm lucky in the sense that art is sold in destination locations so when I travel it's usually to someplace fun.
When I look through my jewelery chest (which doesn't contain diamonds or gold) I almost always pick out brightly colored glass pieces from my favorite artist or freshwater pearls from the tropics but today, the labyrinth fits perfectly.
The image above is a section of a 36″ hand painted chandelier titled Romantic Summer Garden and it's oh so much lovelier in person than my photos show.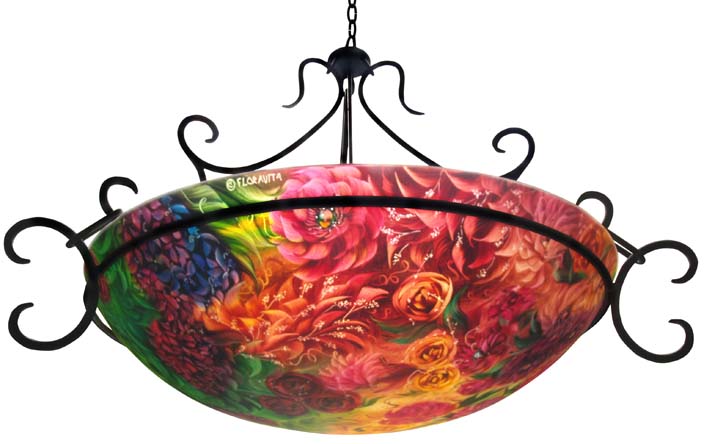 These past couple weeks have been very intense. Preparing for a show or a new gallery is always hard work. My newest 36″ reverse painted chandelier which is titled Romantic Summer Garden has been completed and will be installed next week in Colorado. This piece is very different from the second 36″ chandelier though the nature of the overall color pattern feels similar.
Romantic Summer Garden features bouquets of roses and bouquets of pink and red peonies plus wisteria. Also the nature of the petals in this piece is less busy.
Completing large projects always brings a sense of joy and accomplishment. The end of this weekend will mark a very busy few weeks.
Spring bonus: finally the weather has warmed up enough so that I can wear flip-flops in my studio. This helps me to be more in my element as I'm very sensitive to the least bit of cold…and I'm in an area of California where it really doesn't get cold. An artist needs to fee comfortable so good riddance to winter!